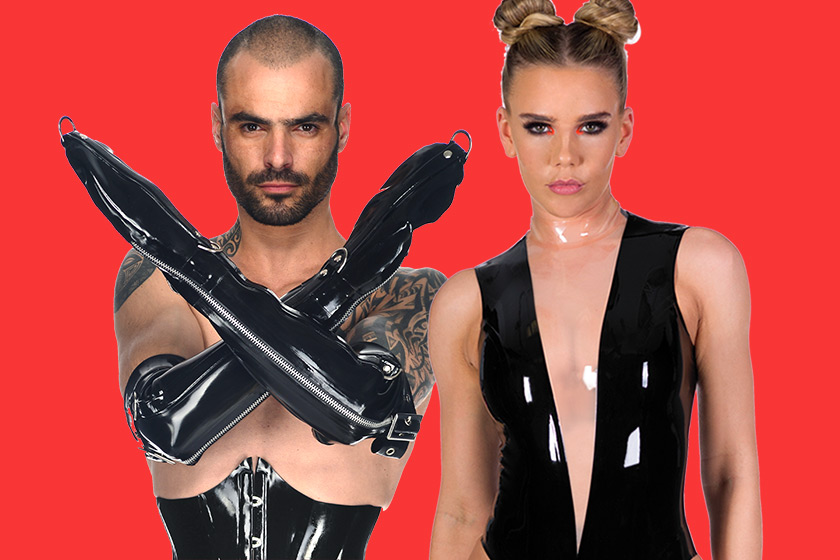 Libidex Party Offers include Free Rapid Service on items such as these Long Zipper Mitts (left, £99.95), and 25% off this LatexEXPRESS Leonora Leotard (was £124.95, now £93.71)
LIBIDEX PARTY OFFERS: FREE RAPID SERVICE & 25% OFF LATEXEXPRESS
For a limited period only, you can enjoy two Libidex Party Offers. Our Libidex Rapid Service is free to use — and our ready-to-wear sister site LatexEXPRESS has returned with 25% off most items — just in time for the new party season!
FREE RAPID SERVICE
With the new fetish party season almost here, this is your chance to dazzle them all in your brand new, shiny, Libidex outfit! Libidex offers the biggest range of styles available from 2XS to 6XL sizes, many of which are available in petite and tall in addition to standard lengths — catering for almost all body sizes and heights.
Be the talk of the ball in one of our glamorous full-length party dresses, a skimpy leotard, or an arresting lingerie set. Your audacity is the only limit! You can choose everything from sci-fi themed catsuits to a dinner suit, with myriad kinky options in between. We have something for everyone and for every occasion.
To get this Libidex Party Offer you must select the Rapid Service button at the checkout, and your order will then be made and despatched within ten working days. The charge for this faster production time would normally be 30% on top of the standard retail price, but we are waiving that extra charge for a limited period. This is not an automatic or default process — you must select it at checkout, and we cannot upgrade your order to Rapid after the payment has been completed.
There's Free Rapid Service for a limited period on on items such as this Libidex Pencil Skirt (left, £99.95) and Rylee Top (£144.95)
Please remember also that working days means Monday-Friday, excluding weekends and Bank Holidays; delivery time is additional to production time; and the total cost will depend on your chosen method of shipping. We offer Royal Mail postal service but also courier delivery, which is usually a faster option if you are based outside the UK.
LATEXEXPRESS POPUP: 25% OFF
The second of our Libidex Party Offers come from our ready-to-wear sister site LatexEXPRESS, which is back in time for the new party season with a fantastic 25% off most items!
Our Latex EXPRESS garments are all genuine Libidex styles made to the same high standards, but ready for despatch (ie there is no waiting for your order to be made). Everything at LatexEXPRESS is in stock and ready to go. It offers an amazing selection of (nominally) female and male styles in many sizes and colours, for anyone who likes our clothes. If you have a last-minute party to go to or just fancy treating yourself with a quick fix of the best latex in town, look no further!
At LatexEXPRESS you will find some of the Libidex bestsellers like our well-tailored catsuits, stockings, tops, shorts, dresses, hoods, leggings and a lot more. So, what are you waiting for? Check our LatexEXPRESS site for some irresistible Libidex Party Offers while stocks last. Despatch is normally within one to three working days! (Please note that some items such as gloves and latex care are excluded from the sale. Also, working days are Monday to Friday, not counting Saturday, Sunday or bank/public holidays).
LatexEXPRESS returns with 25% off ready-to-ship items such as, l-r: Duke Catsuit (was £299.95, now £224.96); Amie Girdle/6-Clip (was £89.95, now £67.46); Full-Length Chaps (were £154.95, now £116.21)