Autumn Latex: Maggie Delena owner/designer Laura Morrissey models three latex looks from her mix and match Fall 2023 Collection. Left to right: Shayan Halter Top (shown with Simple High Waisted Pencil Skirt); Crop Halter Top (skirt as before); Zip Front Halter Top (skirt as before). Photos: Marilyn Scavo

AUTUMN LATEX: FALL 23 COLLECTION FROM MIAMI'S MAGGIE DELENA
Although latex designers mostly don't bring out new collections with the strict seasonal regularity of mainstream designer brands, the pre-Christmas months are traditionally the busiest time for many latex businesses and some do aim to offer customers fresh looks for their autumn latex wardrobes.
Among these, over in Miami FL, is Laura Morrissey (above), owner/designer at the long-established latex label Maggie Delena, who has launched a Fall 2023 collection of co-ordinated separates.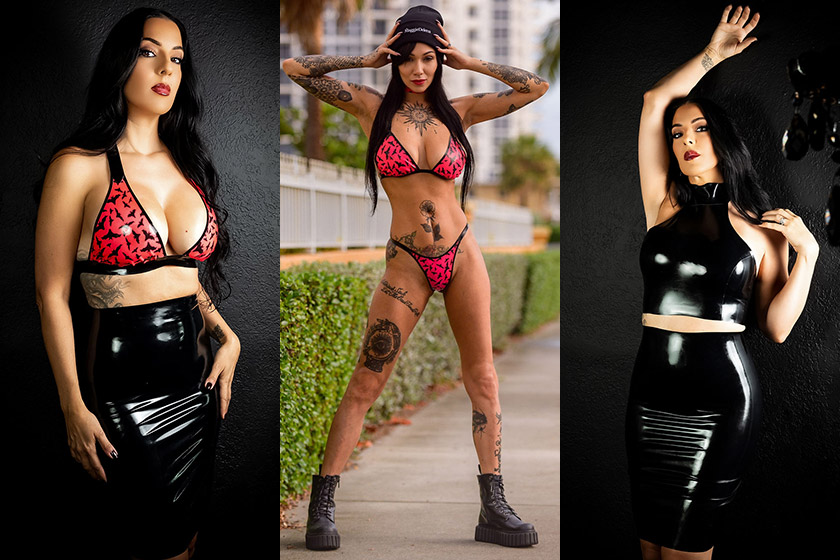 More Maggie Delena Fall 2023 pieces, left to right: Bats! Bra Top (shown with Simple High Waisted Pencil Skirt); Bats! Thong Bikini; and Shayan Crop Halter Top (skirt as before). Photos: Marilyn Scavo
Laura says that what sets her Fall 2023 Collection apart is "its emphasis on mix and match versatility", with all pieces designed to complement one another so that wearers can "craft their unique personal style".
In addition to the outfits shown above, the Fall 2023 Collection includes the Buckle Front Waspie, Corvina Custom Catsuit, Nikki Crop Top, Monokini Latex Thong Bikini/Bodysuit, and Zip Front Bandeau Top.
And for those interested in other new products from Maggie Delena, the company has also just launched its own make-up collection, which has been created to "perfectly complement" its latex clothing.