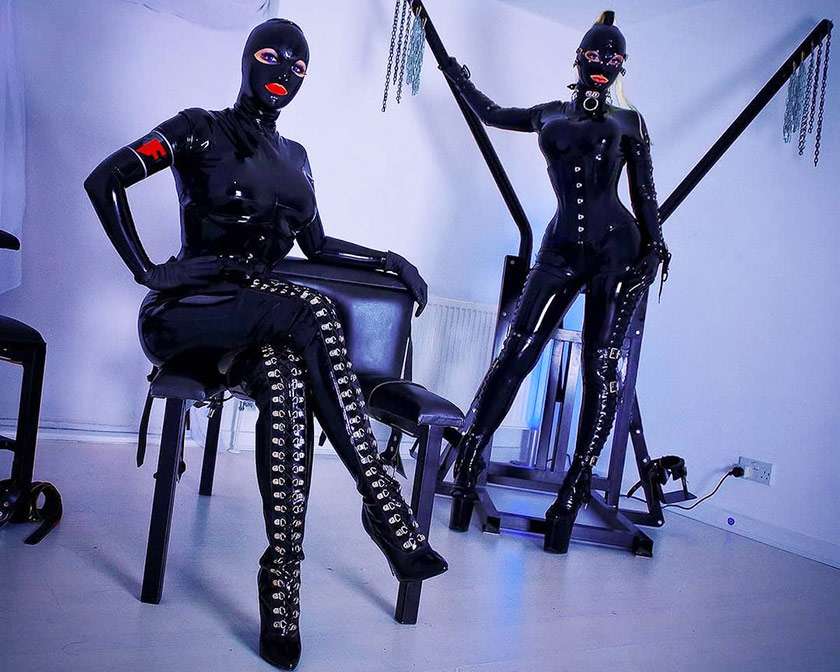 Fetish Dungeon duo: Hannah Price and Latex Lucy (photo, 2020: Peter Felix Kurtz/FetishFoto.co.uk)

DUNGEON HIRE LONDON: PETER FELIX KURTZ PLAYSPACE MAKEOVER
London is rightly renowned as a hub for all manner of fetish activity, but an attraction perhaps less well-publicised (in the mainstream anyway) is the availability of facilities that can be hired for private play or fetish/BDSM photo/video shoots.
One such establishment, Dungeon Hire London — based in north west London and owned by well known fetish photographer and videographer Peter Felix Kurtz — recently underwent a full refurbishment that Peter is keen for fetish folk to hear about!
Dungeon Hire London offers a location with fetish/BDSM and clinic playspaces, plus a photo studio that has been the setting for many a famous fetish photo shoot over the years.
Whether you're a kinky couple, threesome or foursome, a model, photographer or videographer, and living in or planning to visit London, the Dungeon Hire London space promises the chance to spend some quality hours in a dedicated, discreet, and private fetish playspace. Here, says Kurtz, guests can lose themselves in a "fully controllable atmospheric experience that caters for their BDSM fetishes".
Dungeon furniture available includes a Fetters spanking bench, left, while clinical fetish furniture includes a white gynae chair, right (photo: Peter Felix Kurt/FetishFoto.co.uk)

Equipment provided includes a Fetters multi-use bondage throne (aka bondage chair or mistress chair), a Fetters spanking bench (aka whipping bench), plus clinical fetish furniture including an adjustable white medical gynae bed/chair (with stirrups and bondage straps) and a white examination table. Play accessories are also provided.
With individually controllable air conditioning or central heating (depending on the season), plus mood lighting, hi-fi audio and HD projector (both with Google Chromecast), the ambience can be set for an unforgettable BDSM fetish experience.
The Dungeon Hire London premises include a separate hotel-style bathroom with shower for guests' private and exclusive use. All facilities are promised to be "spotlessly clean with the highest standard of hygiene, disinfected and steam-cleaned after every use".
Guests are offered a complimentary drink on arrival and have access to a comfortable sitting area, a high table and bar stools, free WiFi and a coffee pod machine.
Pre-refurb view, left, of Bathroom 2; right: Gina and Hannah Price in the dungeon (photos, 2020: Peter Felix Kurtz/FetishFoto.co.uk)

Photo Studio Rental is available for stills and video shooting in the venue's white studio with dual aspect natural light and black-out blinds. Studio equipment available includes professional multi-head strobe (flash) lighting, umbrellas, soft boxes, RF and IR trigger systems, LED video lighting and background support system for seamless paper backgrounds.
Help with studio set-ups is available from Mr Kurtz himself. Guests using the play spaces also have the option to engage Peter to photograph or video all or part of their play session as a permanent keepsake of their visit.
Dungeon Hire London is located near major north west London roads A1, A41, A406 (North Circular) and A5 (Edgware Road), and has free parking outside. The nearest London Underground station (in TfL Zone 3) and Thameslink train station are approximately 15 minutes' walk away.
The location is served by numerous bus routes and for those wanting a local overnight stay, a Premier Inn is just a seven minute walk away.
Face time: Nina Birch and Valkyrie in the FetishFoto studio (photo, 2020: Peter Felix Kurtz/FetishFoto.co.uk)

For more information including hire rates, lots more pictures featuring both the establishment's brand new, post-refurbishment look and a great selection from Peter Felix Kurtz's fetish/BDSM photography over the years, plus links to his numerous social media pages, visit the Dungeon Hire London and FetishFoto websites below.